Get 100% SSL Visibility with a dynamic, flexible, and cost-effective solution
Corsa Security is a member of the Symantec Technology Integration Partner Program (TIPP), a global ecosystem composed of more than 100 participating technology companies, joining a worldwide collaborative effort to combat cyber-crime and secure the cloud generation. Read more to discover how this partnership can help you achieve 100% SSL Visibility.

The Symantec SSL/TLS Visibility Appliance (SSLVA) products seamlessly integrate with the Corsa Security platform so you can build out your SSL/TLS visibility infrastructure. The Corsa Security platform redirects traffic into multiple Symantec appliances as needed to scale the inspection capabilities, independently of north-south path upgrades.
---
See how it works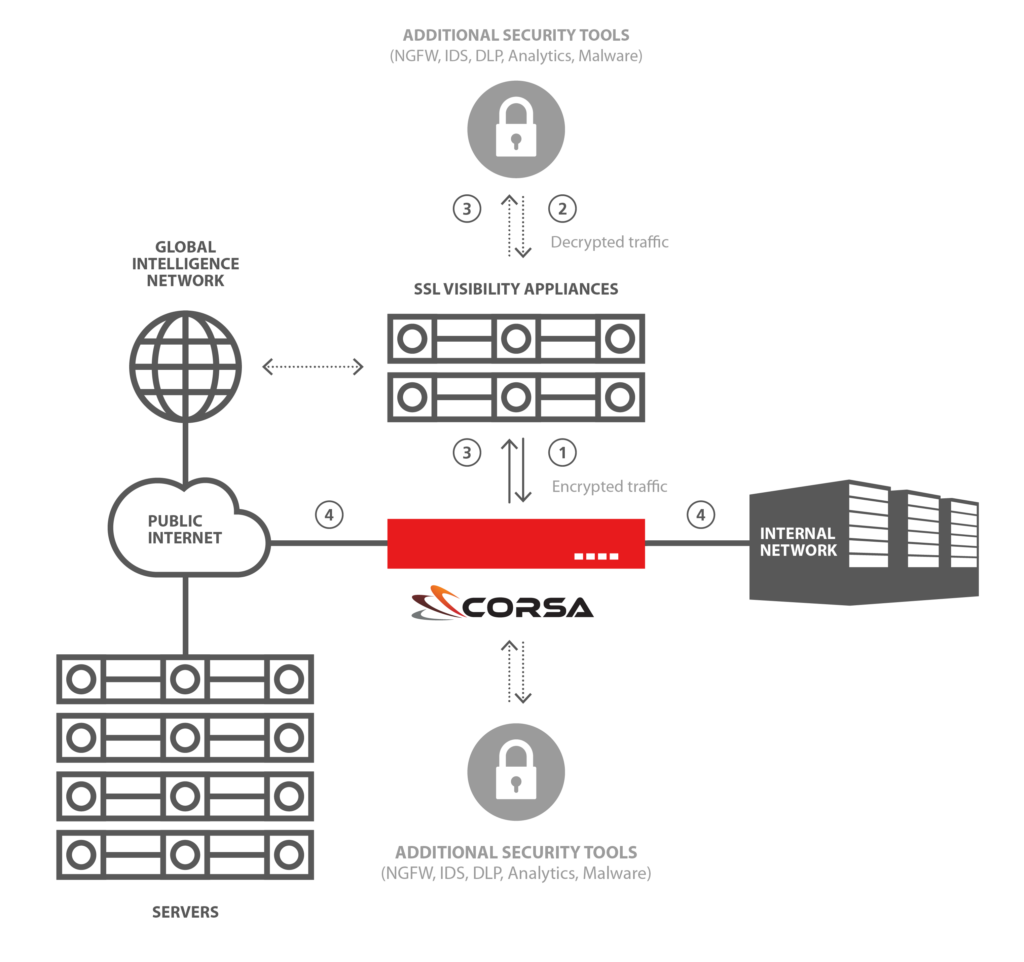 The Corsa Security platform directs all the SSL/TLS traffic to the physical or virtual Symantec SSL Visibility Appliance(s).
The SSL Visibility Appliance decrypts the traffic and sends it for further security functions.
The security service chain treats the traffic and returns it to the appliance where it is re-encrypted and passed to the Corsa Security platform.
The Corsa Security platform maintains flow conversations with symmetric and bidirectional load balancing, sending traffic to its correct destination.
---
Corsa Security and Symantec SSL Visibility appliance benefits
With this partnership, you can inspect 100% of SSL traffic by leveraging the Corsa Security platform to horizontally scale Symantec SSLVA solutions across 10G, multiple 10G, and 100G links.
Easy to
Integrate
You can quickly configure the solution in just five steps (under 10 minutes) by leveraging the proven integration of the Corsa Security platform with the Symantec appliances and get full control of all the security functions through a simple API.
Unmatched Performance
The solution is optimized for high bandwidth so you can inspect 100 percent of network traffic by symmetrically load balancing bidirectional traffic between as many as 128 in-line appliances. All without impacting network performance.
Uncompromised Flexibility
You can scale virtual and physical appliances by seamlessly adding more as needed without making routing changes or adding virtual LANs. This begins your move to software-defined network security.
Featured Resource
A Corsa and Symantec Q&A Session