Offer a new service with increased velocity, agility and profitability
Managed security service providers (MSSPs) and service providers (SPs) know that enterprises no longer want to own and manage their own physical firewalls. That's because current firewall architectures are complicated, do not scale and lock you in. Offering a hosted managed virtual firewall service (VFS) that is quicker to deploy, flexible and profitable presents a great opportunity for SPs and MSSPs looking to make the best use of their private networks.
But, you, the service provider, need a solution that automates deployment, scaling and optimizing on-premise firewalls so your customer support team can spin up these services the same-day. It needs to build on your existing capabilities you have today so you don't need to retrain your entire team. And, it needs to work with your client's existing security tools.
A turnkey virtualization approach can be the foundation for a new hosted managed VFS.
A new approach for managed virtual firewalls
The Corsa Security solution is built on a Secure Access Secure Edge (SASE) framework to converge network and security functions into a unified, virtualized service. It can be installed in minutes and you never have to deal with the infrastructure. You can replace all of your customers' hosted, managed physical firewalls with virtual ones that offer the same features but more flexibility.
By fully integrating with firewall APIs and policy managers, you get a cloud-like user experience for managing the infrastructure and more efficient operations with the Corsa Security Orchestrator. Multi-tenancy allows you to add or remove virtual firewalls as needed with the click of a button resulting in better ROI for you.
A single solution that supports all end-customers
Corsa Security can provide all the necessary components in a turnkey package or can work with your existing commodity servers. You continue to offer your preferred security vendors by providing the appropriate licenses to their virtual firewall instances, and configuring the firewall policy from the existing policy manager.
There is no longer any need to deploy new physical firewalls for each customer since with Corsa Security they are collapsed into a single virtualization solution that supports all of the end-customers requirements. In some cases, a single virtual firewall is enough for the end-customer needs whereas in other cases, multiple virtual firewalls are needed.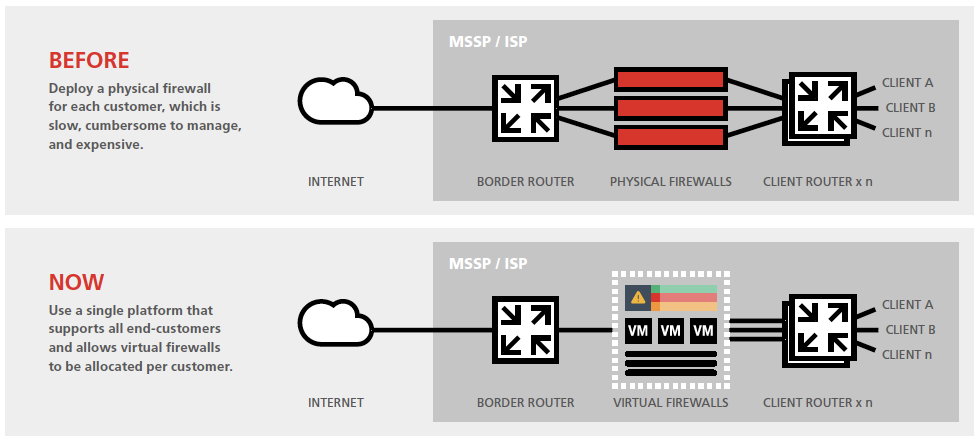 Automate your hosted managed VFS for improved efficiency and better ROI
With enterprises looking for the latest security solutions and to deploy virtual firewalls, you have to be able to offer a flexible and up-to-date hosted managed VFS that protects your customer's network, data and users. This is why you need to use a solution built on a SASE framework and intelligent orchestration that offers these benefits:
Simplify the deployment of virtual firewalls
Quickly scale your service offerings
Reduce network operations expense for better ROI
This solution allows you, as an MSSP or SP, to offer a new and more flexible firewall service to your customers with increased service velocity, agility, and profitability. It's also a vendor-agnostic approach, so you can continue to offer the solutions you have today, or work with your client's preferred providers. You get hands-free operations when you virtualize your customers' network firewalls with a pay-as-you-grow model that allows you to quickly scale a successful service.
---
Featured Resources
Business Brief:
Offering a Hosted Managed Virtual Firewall Service