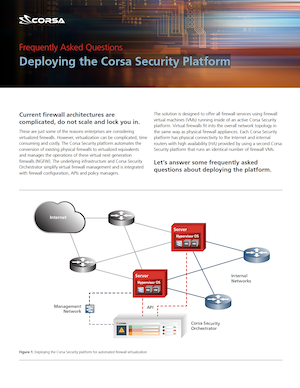 As more and more enterprises move towards virtual firewalls and all the flexibility they promise, you want a way to automate firewall virtualization easily and quickly.
That's why we created a turnkey platform which automates the process, so you can minimize complex DevOps, reduce network operations expenses, and focus on running your business. Our platform is also vendor-agnostic, meaning you can continue to use your preferred providers and get your virtualized firewalls up and running immediately.
Here are some answers to frequently asked questions about deploying the platform, including:
How to automate firewall virtualization with the Corsa Security platform
How to manage the platform with the Corsa Security Orchestrator
How to support the Corsa Security platform
Download the FAQ, Deploying the Corsa Security Platform.