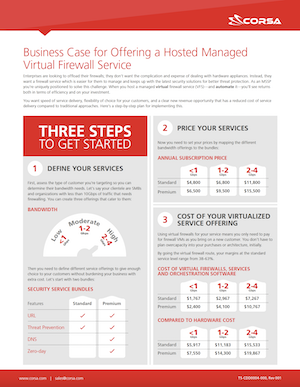 Enterprises are looking to offload their firewalls; they don't want the complication and expense of dealing with hardware appliances. Instead, they want a firewall service which is easier for them to manage and keeps up with the latest security solutions for better threat protection.
As an MSSP you're uniquely positioned to solve this challenge with a hosted managed virtual firewall service (VFS). But for this service to be successful, you want speed of service delivery, flexibility of choice for your customers, and a clear new revenue opportunity that has a reduced cost of service delivery compared to traditional approaches.
Download the Business Case for Offering a Hosted Managed Virtual Firewall Service to get a step-by-step plan to implement this.